Some people might find it unnatural to walk around the campsite without clothes on your body, although it is considered normal to swim and sun-bathe without clothes on the beach. NFJ Naturistcamping at Kysing Beach is situated between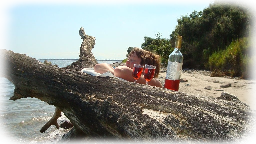 Aarhus and Odder and at this campsite people walk around without clothes on as well as on the beach. We do this because we have realized, that it is very comfortable to be naked in the nature. As naturists we enjoy the sun, but when the sun isn´t shining or it get´s cold, we naturally put on clothes just like all other campers. We are convinced, that it is good for you to get a tan all over your body, but of course we should not get sunburned, because everybody knows that a sunburn is not healthy.
At the campsite there is room for 145 units and during the warm summers the campsite is often fully occupied. Everyone, who is a naturist or would like to try to be one can visit our campsite.
Our campsite works as a regular campsite except, that we do not have seperate bathrooms for men and women. The showerroom is also common for both sexes. This is also natural, since we are used to seeing each other without clothes on at the campsite.
In the common room and on the terrace we have fun together - for planned activities or when you just want to have a good time with some friends or family. So all and all we are not that different from other textile campsites.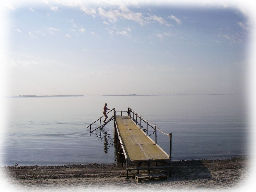 If you have not tried to be a naturist before, sometimes it is very hard to drop that last piece of clothing. But after a short while it will feel quiet natural and you will be wondering, why you did not try it earlier. Some people will not feel comfortable at this campsite, but then they just move on to a textile campsite. We do not want people to walk around fully dressed for a long time, when the rest of us do not wear clothes.
The campsite is run by a committee, which has been elected by the members of the local union. There are rules and regulations, which must be followed. The members pay an annual fee to be a member of NFJ Naturist Camping.
Our purpose paragraph says that our members and tourists can stay at NFJ Naturistcamping without wearing clothes, when the weather and other conditions permit it. Besides this we seek through naturism to incourage the understanding of the differences of human beings and it gives us the possibility of activities in the nature together with other people.
We have the possibility to get some exercise, since we have tabletennis, a volleyball court, a soccer/handball field, and a playground. The beach is about 800 meters long, so if you like to go for walks - this is the place to do it.
Many foreigners have found our spot to be very lovely. Tourist come from Germany, Holland, Sweden, Norway and many other countries. In Holland and Germany naturism is a very common thing. Naturism started in the time between the wars in Germany, Switzerland and Austria, but can be traced all the way back to the classic greek naked sports. We have also known naturism in Denmark for a lot of years. We have been at this spot since the late fifties, but back then it was only a tent site below the steep slope towards Kategat. The people, who were here then and are still here, can tell stories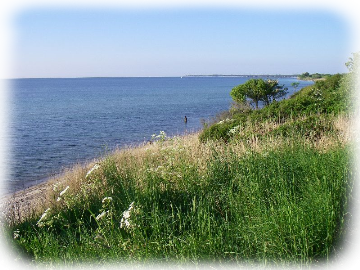 about how they had to wear clothes to get water on the field above the slope or when the tradesmen, for instance the milkman, came to the site. As soon as the trademan entered the site, a signal flag was raised and you had to put your clothes on. As time passed by, the campsite moved above the slope and the site is now sheltered from the wind by many trees and bushes on most angles.
We also have two cabins and three caravans for rent for tourist, who do not bring their own tent or caravan. Some tourist come back year after year and they make reservations way in advance to rent a cabin or a caravan, so they are sure to have a place to spend their vacation.
If you would like further information, please contact the campsite. If you choose to contact us outside the open season, please use the contactform.